SEO Marketing - is one of the main tools of the digital sphere. The main task of SEO is to bring your site to the required positions through various methods. In other words, in order for your online store, blog or other type of resource to occupy the first positions in the issuance of search engines such as Google, you will definitely need SEO services. Our company has been engaged in such work for more than 5 years, during which time search engine algorithms have changed hundreds of times. We worked with a variety of niches, including the most complex and competitive ones.
When will your site be on the first positions of Google?
The complexity of bringing the desired request to higher positions depends on many factors. The site bringing in the TOP is affected by: competitiveness, seasonality, constant changes in algorithms, possible getting under filters of the site or individual pages that lower them in the search results. Hence, it is difficult to say average forecasts for each client - it can be individual. The history of the domain is also important, whether it was previously filtered, whether its subject matter has changed, how long ago it was registered, etc.
In our experience, the average time to get to the TOP for a new site can be about a year, for a site whose domain has a history of about 6-8 months. We repeat that everything is very individual, and sometimes this period can be much less.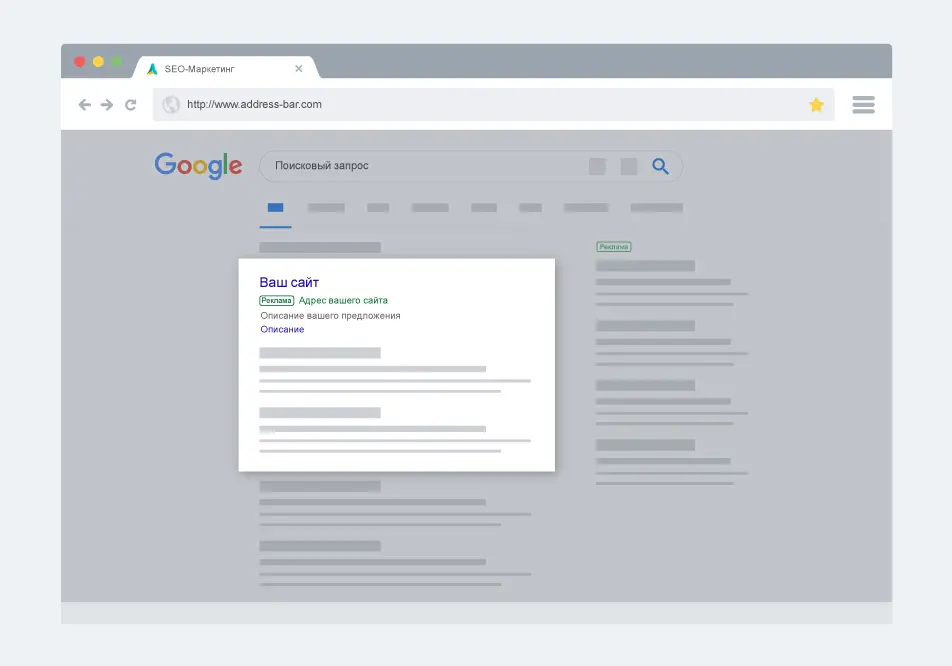 Below are just the main factors that affect the position of your site:
Referring domains
Organic traffic
Site mobility
Content quality
Domain authority
SEO data of the page (meta tags, markup, etc.)
As you can see, there are plenty of factors, and each of them needs to be worked out and improved.
Internal and external website optimization
Perhaps one of the biggest tasks as per volume and time spent.
For example, internal optimization involves checking the site's micro-markup, its structure, usability, the presence of a sitemap, code validity, page loading speed, preparing a meta tag template, checking for possible errors, and much more.
At the same time, work on external website optimization is no less important, what domains link to you, what reviews are written about your company in social networks, forums, blogs, is it easy to find you on Google maps or not? These and many other questions are also only part of the overall SEO optimization of the site.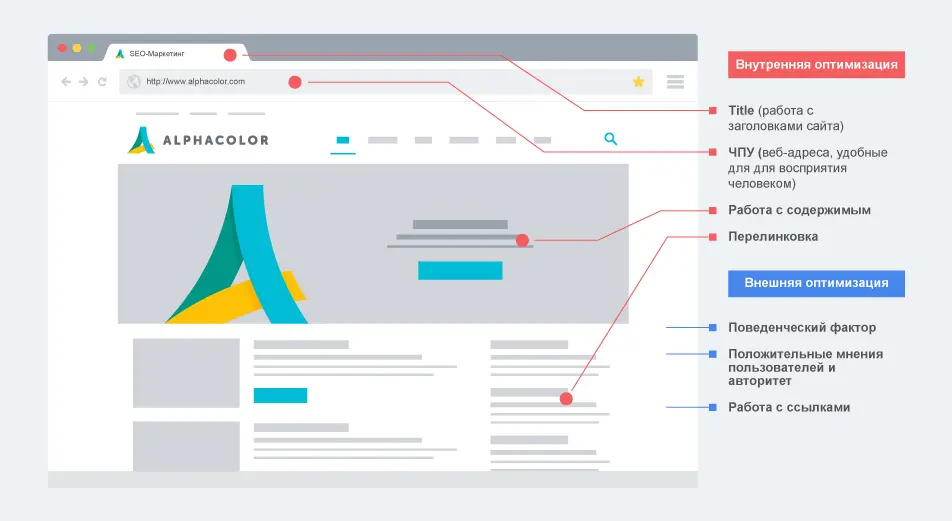 Content deserves special attention. Without high-quality, content useful for users, site promotion is almost impossible, the site must be of value to the end user, this can be traced in various metric systems, based on such indicators as spending time on the site, the number of pages that the user visited in one session, failure rate, etc.
Before starting work, we draw up a detailed plan of what is to be done and when, coordinate it with you and get to work. In monthly reports on the work done, the results and results of each month will be clear, which makes our work transparent.
What budgets are needed to bring the site to the TOP?
The budget for website promotion in the TOP depends on the competitiveness of a particular niche, namely key queries. For example, displaying the query "installation of solar panels for 5 kW" in a small city is not the same as "buy Xiaomi redmi 5 in Kiev".
Based on this, each project is a separate story, with its own nuances and features. We will draw up a more accurate budget when analyzing and preparing proposals for our cooperation.
In any case, the cost of website promotion consists of two parts:
the necessary costs for the purchase of link mass, the use of paid services, additional copywriting work, etc.
the cost of agency services, which includes the time of specialists spent on your project. Depending on the complexity of the project, two people or 5-7 people can work on it. Due to this the cost of SEO promotion can vary.
The minimum budget from which we start working - is $300/month.
What is the purpose of buying links to the site?
Search engines, be it Google, Yandex or others, evaluate the site by a huge number of indicators. One of them is the presence of linking sites to your site. In other words - if, conditionally, Google sees that some site links to your company - it understands that it probably has value, since recommendations are a priority. Thus, your site receives an "extra score" for Google, which, in turn, increases the specific position of your resource.
However, despite the seemingly simple scheme, there are many nuances of which sites traffic comes from, what its subject matter is, the age of the domain, etc. For example, a sudden increase in link mass can result in your site being assigned a filter, which will take it out of the game for several months.
We strongly recommend that you contact a specialist before starting such work.
If you do not have a great desire to spend time and money on taking courses, searching for information, and at the same time, there is no guarantee of a complete understanding of all the principles of SEO work - contact the specialists.
We are waiting for your call!